Champions League: PSV sparkle, Zulte sulk. 2 – 0, but it's not done yet
A young and energetic PSV side overcame last season's Jupiler Pro League runners-up 2-0. With an average age of 21.4 years, PSV fielded their youngest starting XI ever. However, there was no evidence of a lack of experience in the team. If there was one pre-game observation that was done justice, it was why PSV were disappointed with their second place in Eredivisie last season and why Zulte-Waregem were a surprise package with their second place in the Jupiler Pro League. The 2-0 was hardly flattering for PSV, who dominated the game from beginning to end. A so-called 'thunderbastard' from Memphis Depay and an exquisite finish by Jurgen Locadia (both in the second-half) gave the home side  a margin to build on for the return in Brussels next week.
A Belgian impresses, but not for a Belgian side…
Of the five teenagers (!) in the starting XI, the debut of Zakaria Bakkali was the most highly anticipated. And the youngster did not disappoint. Compared to the likes of Pele and Ronaldo, the 17-year-old gave left back Bryan Verboom such a torrid time that he was substituted off in the break. His replacement Duplus didn't have much more success, as the Belgian continued to dazzle before being subbed off for Florian Jozefzoon in the 81st minute.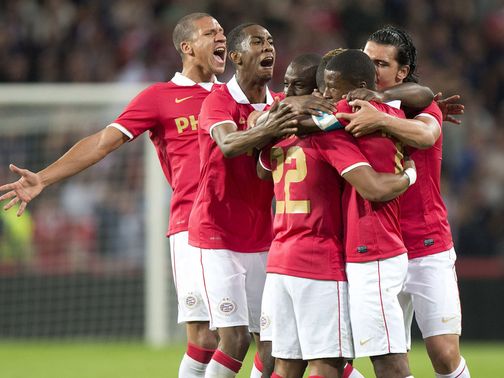 Missing chances
PSV started with power and energy while Zulte Waregem struggled to get into the game at all. Where Essevee were mainly trying to counter through Habibou and Leye, PSV played free-flowing football and were way more fruitful than their counterparts in attack. Depay, Adan Maher, Georginio Wijnaldum and Tim Matavz all got into good scoring positions, but all failed to find the net in the first-half, bar an offside goal of Depay. The biggest threat Zulte posed was physically, as two attempted bicycle kicks failed by the striker duo.
Breakthrough
After the break, PSV continued to flood Zulte's half, but without getting a goal, with the chances of Zulte getting a result becoming greater. This was until Depay picked the ball up from around 30 yards and decided to use that mighty right foot of his. Zulte goalkeeper Sammy Bossut didn't stand a chance and the ball swerved past him, 1-0 for the home side and a sigh of relief left Phillip Cocu.
With his young side leading, things were looking rosy. For striker Matavz however, things weren't. After a game in which the all-round play looked good, the Slovenian snatched at a couple of chances, eventually being replaced by Locadia. The latter has been incredibly productive in his spare minutes for PSV and again it only took the young striker 4  minutes to score, applying the pressure on Matavz for his starting place at PSV. A great rush by right back Joshua Brenet (19), who was a surprise inclusion in the starting line-up as Arias was dropped after injury, was followed by a good cross. With Locadia at the end of it, there was only one outcome. The 2-0 gave the Eindhovenaren that little extra comfort they were looking for. Zulte tried to press a bit more in the hope that they could salvage anything from the match. In the end, they didn't and PSV will feel confident ahead of their return in Brussels.
---
---
---