EXCLUSIVE: Michael Higdon enjoying the Eredivisie adventure with NEC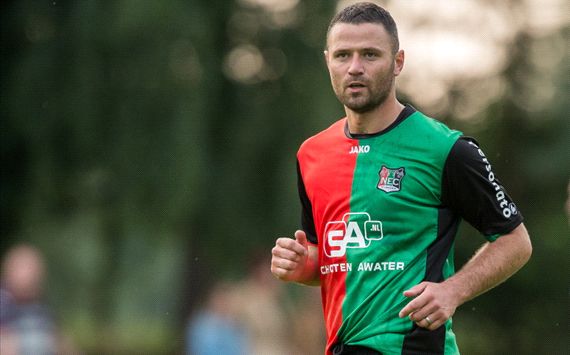 After finishing the 2012-13 season as the top goalscorer in the Scottish Premier League and winning PFA Scotland's Players' Player of the Year award, Michael Higdon is currently on a new, exciting adventure. The former Motherwell star has just kicked off his new life in Holland with Eredivisie side N.E.C and he is well prepared for the season ahead.
Higdon seems to be settling in well at his new club, having joined N.E.C just six weeks ago. The striker is optimistic about the journey which lies in front of him, as he talks often about the cultural and sporting experience that his move has offered. He has played only three games in the Eredivisie so far, but has already noticed several differences between Dutch and Scottish football in both the training and playing styles of the two countries.
"It's a lot different to Scotland. It's roasting over here at the moment, which is different," the Englishman laughs. "I'm enjoying it and it's something I'm looking forward to.
"The standard of football is really good over here. It can be quite slow building up, but in the final third it's really quick.
"You get one day off each week and that's it and there are double sessions on Tuesdays and Thursdays and that type of thing. I've never experienced that in Scotland. Only during preseason do you have a double session in the UK. So it's different on that side of things.
"It's a lot higher intensity in the training sessions as well, but it's also for a shorter period."
Another difference the former Motherwell star has noticed is the fact the league is very open. Last year, Ajax, PSV, Feyenoord and Vitesse were all in contention for the championship until the final weeks, and the current campaign looks just as open. It's a difference which Higdon finds refreshing, after spending six years playing in Scotland for Falkirk, St Mirren and Motherwell in a league generally dominated by just two teams, Rangers and Celtic, and then, in his final season, following the relegation of Rangers to the bottom tier, one.
"You can ask a lot of players who have played in Scotland for a long time and they'll tell you that it can get quite repetitive. I think the standard in the SPL is very good and it gets unfair criticism. I did fancy a change, though, and coming to Holland you've got Ajax, Feyenoord, Twente, PSV and a few others who are all big teams, so it's more open."
For Higdon, these differences are all part of the learning experience and the opportunity to grow even further as a player, on which he seems to be fully focused, but he hasn't quite ruled out a return to Scotland further down the line.
"This is what I wanted; to experience a different side of football. I might go back to Scotland in a couple of years, but once my career is over at least I can say that I have given something else a try.
"I might love it, I might hate it, but I'm going to give it a go and see how it materialises and if I go into coaching, it might be better for me to know how they do it in a different country."
To most in Scotland, his transfer to N.E.C was a big surprise. He looked destined to return to England, as Barnsley and Charlton had shown an interest. But after that great season, in which he topped the SPL goalscoring charts with 26 goals, was crowned SPFA Players' Player of the Year and finished second in the league with Motherwell, the opportunity to move to another country had opened up as offers from Russia and China came in. At 29-years-old, he felt that chance may never present itself again and seemed too great to pass up. He could have reaped the financial benefits of his impeccable season by following the money to the East. The striker, though, opted to move to Holland and joined N.E.C, as he felt it seemed beneficial in a sporting sense.
"I didn't fancy going to Russia or China," he admits. "I had a look at that and I could have gone there and made a lot more money than I am making here, but, although this is abroad, it's not too far away from home.
"[N.E.C] had shown an interest about six weeks prior to me coming here and I put it on the back burner for a bit as I had a lot of offers and a lot of options to weigh up. In the end, this move seemed to make more sense than the others."
He feels he has made the right decision. He chose to play in a league which is arguably of a higher standard than those of Russia and China and is generally well respected and famous for its attacking and entertaining style of play.
"I'm delighted to be here. I'm 29 now, so it might never happen again that I can move to a top league in Europe. That was the reason behind leaving Motherwell, I could have happily stayed there for the rest of my career because it's a fantastic club and there are a lot of really nice people there. But if you've got any ambition then you want to see how you'll get on in a new venture."
Before making the move, Higdon spoke to Jimmy Calderwood, who spent the last eight years of his playing career in Holland and managed N.E.C for two seasons, about the city and the club.
"I know Jimmy quite well, so I spoke to him when N.E.C showed an interest to ask him about the city and he had nothing but praise for it. He told me what the fans are like and how passionate they are.
"He didn't influence me, I just wanted a bit of advice. He just explained what life was like in Holland and told me about double sessions and weight training, which was interesting to hear."
When the deal was announced, Calderwood was asked for his thoughts on the striker by Voetbal International, the most popular football magazine in Holland. The 58-year-old, a respected figure among the Nijmegen natives, tipped Higdon to become a fans' favourite at the Goffertstadion, which the player was delighted to hear.
"Obviously coming to a club, especially as a striker you're already under pressure by fans to score goals. The season I had last year adds a bit more pressure, but obviously it's good to have Jimmy say nice things about me.
"He's seen my career progress and each year I've got consistently better as a player and I think that's what he's talking about. If I carry on my form from last season then I'll do well here, that's what I'm trying to achieve and hopefully it works out."
Calderwood admitted to the Dutch press that expecting Higdon to match last season's SPL record of 26 goals is a bit too much, but believes that if he scores 17 or 18, he'll have "done a fantastic job". Although the graduate of the Crewe Alexandra youth system has set his own targets, he isn't aiming too high in his maiden season in the Eredivisie. Melvin Platje, his predecessor at N.E.C, scored nine goals in the 2012-13 campaign and Higdon feels sure he can beat that record.
"I'm aiming for double figures and if I can carry my form on from last season then I don't see why not. But you've got to change your whole philosophy and style because of how the game is played over here and that's what I'm trying to do and I'm willing to learn new aspects of football.
"Hopefully I can get my first goal and go on a bit of a run."
The attacker is enjoying the experience of playing in another country so far, but the culture is something he hasn't been able to absorb as of yet, as he isn't settled into a permanent residence.
"It's difficult for me at the moment, I'm in an apartment just now and I'm waiting to get a house sorted so that family and friends can come and visit where there's more room. It's not easy joining a new club, in the first couple of months you're just trying to settle in.
"I'm just trying to get on with it and hopefully when I've got a house and I'm settled I can perform better on the pitch."
The issue of not settling in could have been exacerbated by the language barrier and, although he describes his Dutch as "not good at all", that hasn't been a huge obstacle for him. Most Dutch natives have a very good understanding of English, but the old adage that 'football is a universal language' seems to have helped too, when he was working under now former coach Alex Pastoor, who was fired earlier this week.
"You can communicate. I can't really understand what the manager is saying but I know what points he's putting across when he's running a session or a drill.
"But his English is good so he translates for me, so there's no problem on that side. Again, though, I can come and learn another language, which is an opportunity that might not have been there if I didn't do as well as I had done last season."
Overall, the early stages of life in Holland look positive for Higdon, but for N.E.C, the first few results of the new campaign have been very negative. The season was kicked-off with a 4-1 defeat to Groningen, followed by a 5-0 hammering at the hands of a young and exuberant PSV and then a 5-1 thrashing to PEC Zwolle. The team now lie bottom of the league with a goal difference of -12 and have just sacked Pastoor. However, there is a feeling that the team wouldn't have been any worse off without the highly-rated and relatively young manager. The three defeats N.E.C have suffered have come against very strong sides. Zwolle and PSV have 100% records and Groningen have won two of their three matches. Also, N.E.C aren't the only team to have lost all three games – they lie bottom alongside Feyenoord, who are seen as title contenders and expected to recover from a horrendous start. Higdon spoke highly of his now former coach and his training methods.
"The training is first class and the coaching is brilliant… [Pastoor] is good. He's laid back, he doesn't rant and rave. I really like him."
Higdon isn't the only one who was in support of his coach. His teammate and former Hibernian player Victor Palsson has expressed his admiration of Pastoor on Twitter.
"Gutted to see Pastoor getting sacked," the Icelandic midfielder Tweeted. "For me he is the best trainer I have had. All the very best to him for the future! [sic]"
There is a lot of time for N.E.C to recover and Higdon is confident they will. He believes the problem lies in the lack of experience in the squad, not the coach. The frontman is the third oldest member of the team behind backup goalkeeper Dennis Gentenaar, who is 37, and defender Michel Breuer, 33. In his first league match, he was the oldest in the starting XI by four years, leading the attack with the support of 17-year-old Cihat Celik and Christoph Hemlein, 22. He is impressed by the talent of his teammates, but feels that such youth is a cause for concern as the side look to challenge for a place in the top eight this season.
"We need a bit more experience. A lot of the players are 21 or 22, so they're all quite young. But they're technically very good on the ball.
"It's a new team here, we've changed a lot of players, it won't be easy but we need to work hard at it. We want to get points on the board as soon as we can and hopefully we'll see a spring in the lads' steps."
With his experience and goalscoring record, the coach and the team are counting on him to start converting chances to goals soon. The Nijmegen side are looking to improve on last term's 15th place finish. Pastoor's men looked destined to finish in the top eight to secure a place in the Europa League playoffs, but they completely capitulated in the second half of the season as they picked up just one point in their last ten fixtures, avoiding the relegation playoff places by only four points.
This season, however, the aim is to build and maintain the consistency they lacked last year and at least have a chance of getting into the highly-contested Europa League playoff places. To do that, though, they need to have their No. 9 on form. Higdon came up against his first Dutch giant two weeks ago, travelling to Eindhoven to meet Phillip Cocu's PSV and he meets Feyenoord mid-September. However, the former St Mirren man wasn't intimidated by the Eredivisie powerhouse, and instead is looking forward to coming up against the other big teams in the country.
"That's why I'm here. I look forward to the big games. In Scotland I enjoyed playing Celtic, Rangers and Hearts away, the stadiums over here are fantastic and full so that's an experience I look forward to."
It says a lot about the mentality and confidence of Higdon that, even after such a disastrous start, he is still looking forward to facing the powerhouses of the Dutch league. He's in it for the adventure, but N.E.C will benefit from his desire and obvious talent in the long-term, as well as his enthusiasm and experience. At 29 and coming off the back of a remarkable season, he's always looking to improve and learn more and this trip to Holland provides the opportunity to do so. His journey has had a rough start, but he'll do everything he can to smoothen it out and enjoy his time in the Eredivisie.
---
---
---